Posts tagged
meijerink
Paper presented at the EMOOCS 2016 conference in Graz, Austria.
Abstract
What does it mean to qualify as a 'successful' MOOC? This question haunts policy makers and educators alike, and is at the core of the continued development and funding for Massive Open Online Courses. Because MOOCs can serve many purposes, their value lies in more than just their short-term educational role. A 'successful' MOOC can do more than just teach; it can provide institutional brand recognition, address global challenges, improve the quality of campus education, and generate data for educational research. In this paper, we examine the
methods and tools TU Delft uses to evaluate the teaching and learning within its own MOOCs in particular. Recommendations are provided for the use of a set of qualitatitve tools in addition to the more common quantitative tools used to evaluate the 'success' of a MOOC.
Reference
Marquis, Danika; Kiers, Janine; Meijerink, Leonie (2016). Guidelines for Evaluating the Teaching and  Learning in MOOCs: a TU Delft approach. In Proceedings of the EUROPEAN STAKEHOLDER SUMMIT on experiences and best practices in and around MOOCs (EMOOCS 2016). http://emoocs2016.eu/wp-content/uploads/2016/02/proceedings-emoocs2016.pdf. ISBN 9783739237107 (page 447-459)
Slides
Paper
Paper is part of the conference proceedings (page 447-459)
Paper presented at the EMOOCs 2016 conference in Graz, Austria. The paper was awarded the outstanding paper & video award.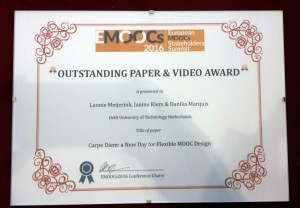 Abstract
Is there one approach to course design that can be recommended in engineering education? At Delft University of Technology (TU Delft), we designed and developed 25 MOOCs, and our experience and expertise in course design is advancing.
One of the frequently used approaches for supporting course teams was inspired by the Carpe Diem approach (Salmon 2014). This paper discusses the experience of TU Delft in implementing this methodology in an engineering setting in MOOCs. The reason for choosing the Carpe Diem approach is that it is simple to use, supports constructive alignment and is a team based approach. In the approach a more activity-based design of MOOCs is promoted through developing e-tivities. In this article the experiences of e-learning developers are described in supporting ten course teams (5 online courses and 5 MOOCs) using the Carpe Diem approach. Two main challenges in supporting course teams are highlighted;
I. How to introduce course teams to the value of the methodology and
II. How to ensure that the specific characteristics of a MOOC are embedded in the design.
For both challenges a range of 'proposed solutions' is suggested based on the experiences of the e-learning developers. This results in lessons learned that can be applied by anyone who would like to make use of the Carpe Diem approach for flexible MOOC design. This paper argues that the Carpe Diem approach needs to be used in an interactive and flexible way, taking into account the diversity of the course teams and course leaders as well as the special characteristics of a MOOC.
Reference
Meijerink, Leonie; Kiers, Janine; Marquis, Danika (2016). Carpe Diem: a new day for flexible  MOOC design. In Proceedings of the EUROPEAN STAKEHOLDER SUMMIT on experiences and best practices in and around MOOCs (EMOOCS 2016). http://emoocs2016.eu/wp-content/uploads/2016/02/proceedings-emoocs2016.pdf. ISBN 9783739237107 (page 425-438)
Video
Slides
Paper
Paper is part of the conference proceedings (page 425-438)