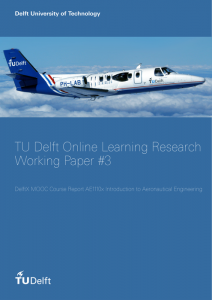 This report is to give more insight in the background, the implementation of the course and the results. The purpose is to provide useful information (and clean data) to the team of developers and teachers and to others to support their aspiration to improve online education. A comparative analysis of the first five DelftX MOOCs can be found in the 'Working Paper DelftX MOOCs, the first year (2013-2014)'.
Summary
The course is highly structured and teacher-controlled with frequent asynchronous student-teacher interaction. It followed a conventional format of several short video segment sandwiched with tasks comprising homework assignments. A separate communication space was dedicated for each task and lecture segment, providing easy structural access to ask a question or make a comment related to particular content. The assignments focused on engaging the students steadily and early on. Individual differences of the students are accommo- dated through materials that help student organize learning offline.
From the completers (578 students) 89% were male and 50% 21-35 years old. Most had a background in Aer- ospace (70%) and 64% hoped to enhance their career with this course. The intention for enrolment was rather diverse: a majority wanted to increase their knowledge and skills or found it an interesting topic or wanted to challenge oneself. Most of the students were opting out during the first two weeks. The highest educated tend to get the highest grades. From the use of the forum it was interesting to see how completers used the forum, what their perception was of the usefulness and who dominated the forum. Both students and teachers were quite satisfied with the MOOC and qualified their experiences as really useful.
Reference
De Vries, P., Hennis, T., Skrypnyk, A., (2015). TU Delft Online Learning Research Working Paper #1:DelftX MOOC Course Report AE1110x Introduction to Aeronautical Engineering. Delft, Delft University of Technology. ISBN: 9789461864581.
Download