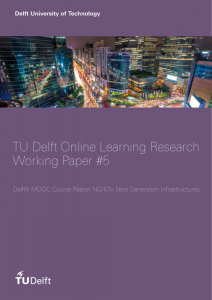 This report is to give more insight in the background, the implementation of the course and the results. The purpose is to provide useful information (and clean data) to the team of developers and teachers and to others to support their aspiration to improve online education. A comparative analysis of the first five DelftX MOOCs can be found in the 'Working Paper DelftX MOOCs, the first year (2013-2014)'.
Summary
The course originated from the encompassing 10 year THE research program on New Generation Infrastructures, and covered the general discussion on infrastructural systems in the world with the purpose to develop a broad understanding. Most assignments revolved around authentic world-problems to provide a good balance between theory and examples. One of the achievements was the collective development of a World map on infrastructures, where students contributed with an array of materials.
The course was intended as highly collaborative, and as an opportunity for crowd-sourced knowledge about the world infra-systems. The design of the course showed a constructivist orientation, was learner oriented and had a certain degree of student autonomy. This is slightly different from the regular xMOOC, which use in most instances a more instructionist approach focusing on knowledge transfer. The different pedagogy put pressure on the appropriate handling of feedback, assessment, and peer reviews. Nevertheless the experiential character of the course made it a very daring process and the approach was perceived as a well-curated online course with high class content.
Reference
De Vries, P., Hennis, T., Skrypnyk, A., (2015). TU Delft Online Learning Research Working Paper #1:DelftX MOOC Course Report NGI101x Next Generation Infrastructures. Delft, Delft University of Technology. ISBN: 9789461864604.
Download