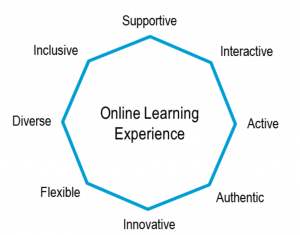 This paper was presented at the EDEN 2015 conference in Barcelona from 9-12 June 2015 by Nelson Jorge, Sofia Dopper and Willem van Valkenburg.
Abstract
In early 2014, the Delft University of Technology (TU Delft) started an innovation program with the aim to respond even more effectively to recent developments in open and online education. Drawing on the fields of Distance Education research and the university's vision of the "engineer of the future", TU Delft's Extension School created a unified pedagogical model – the Online Learning Experience (OLE) – contributing to greater consistency in the development of online courses.
TU Delft's Online Learning Experience
The OLE is a student-centred, online learning model that holds eight interrelated principles:
Flexible – not only being able to study independent of time restraints or location, we offer students the possibility to choose the educational resource format that will help them learn in a more effective way.
Diverse – students will be able to choose between different content formats and challenged with different types of learning activities, which can be collaborative or individual, depending on their learning goals, in order to improve retention and performance, while motivating to learn.
Inclusive – requires preparing tools and technologies to ensure accessible and user-friendly courses, offering different types of learning activities, content in multiple formats and flexible choices to maximize learning.
Supportive – our courses are designed to promote the development of a learning community where students can share experiences and learn from others, supported by an e-teacher with expertise in the field that guides, promotes peer interaction, answers questions and gives feedback.
Interactive – grows from the simplest learner-interface interaction to higher-levels of learning, when learners can apply what they learn in real life and develop meaningful knowledge from information – learner-context interaction. Learner-support and learner-content are essential interactions to achieve this.
Active – students will be able to actively engage with the learning community and course content, embedded in the TU Delft's spirit to think critically, to take the initiative, to operate independently and to work in teams.
Authentic – our courses are designed to promote learner-context interactions to reach high-level learning, enabling students to apply technical and scientific know-how into their own context.
Innovative – increases in the available amount of quantitative and qualitative educational data offer us new opportunities to observe, analyse, and ultimately improve learning processes.
Implementing and evaluating the model
In order to create a structured model, the steps implemented include the development of an online course proposal, teachers' training workshops, instruments and regular meetings to give pedagogical and technical support. The evaluation process includes the collection of learners' feedback through questionnaires and preparing a report with recommendations for improvements.
Challenges and further developments
Wrapping up in a single model different learning strategies that coexist among TU Delft's eight Faculties can be seen as challenging, since it needs to take into account different didactical approaches. In this sense, the OLE can also be an opportunity to think about the changing need in educating engineers, leading to positive changes in pedagogical practices and learner experiences. Creating and implementing the OLE is an important step to ensure high quality online courses. The model will continue to develop based on new research, evaluation and experience that we gather at TU Delft.
Abstract is published in Book of Abstracts and Synergy Projects: Expanding Learning Scenarios – Opening Out the Educational Landscape
EDEN 2015 Annual Conference, Barcelona. CC-BY 4.0
ISBN 978-615-5511-02-8
Slides
The slides of the session are available on slideshare.
Paper